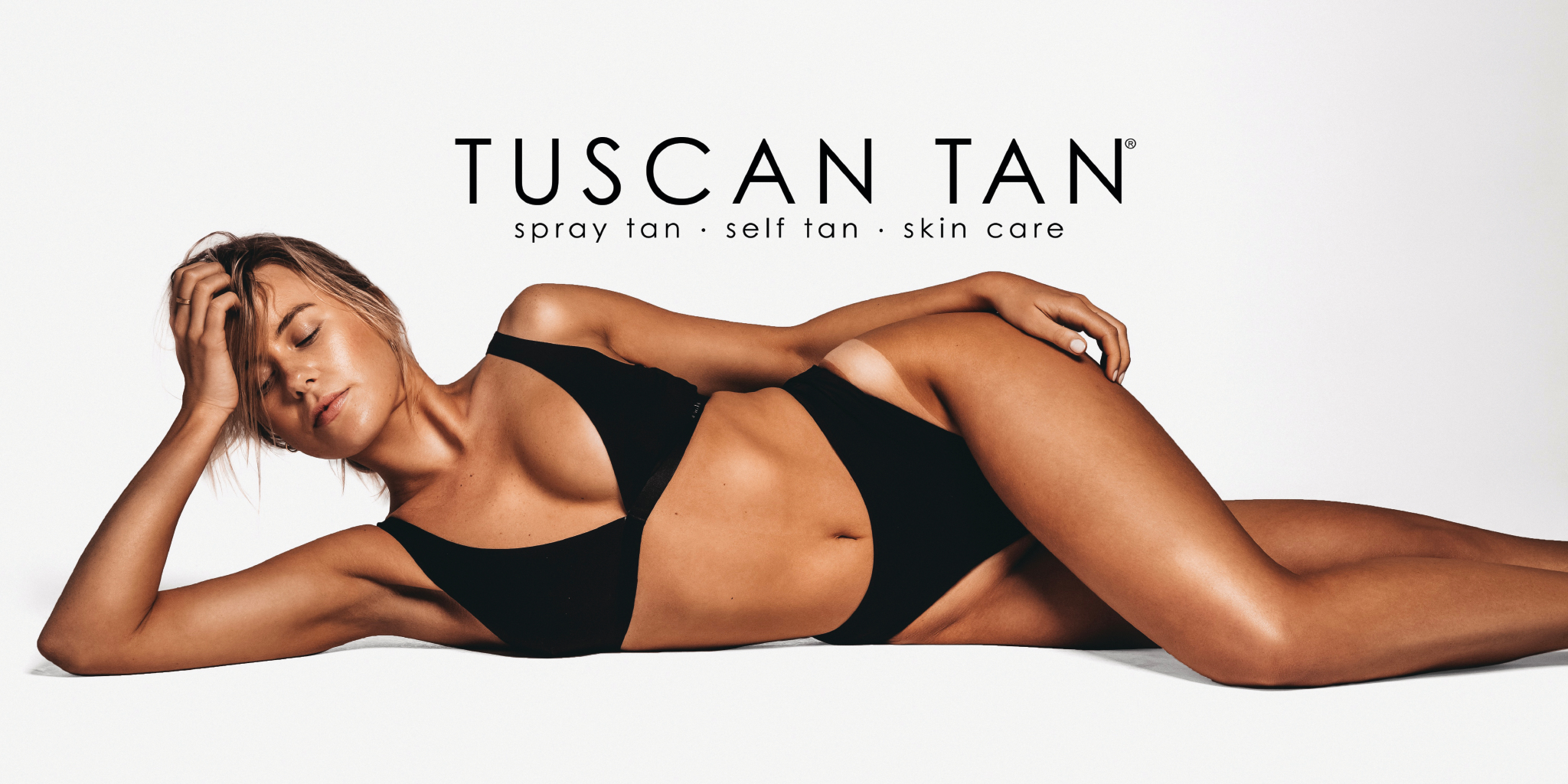 A professionally applied spray tan is flawless. The Vital Effect staff are experienced experts when it comes to applying Tuscan Tan products for that perfect, natural look. So, if you are in the Malvern area, or in fact anywhere around Melbourne, call us or drop us a line to ask us more about our tanning services.
Tuscan Tan

Tuscan Tan mimics naturally tanned skin tones with 100% accuracy. Violet-Tone Complex®; is a blend of naturally derived ingredients formulated to eliminate the orange undertones commonly seen in alternative spray tan brands.
Tuscan Tan is tinted to ensure an even application of colour with no streaking or areas missed, dries instantly on application and has a non-sticky finish. Extraction filters eliminate excessive vapour as you're being sprayed to make your experience comfortable and safe. We recommend the use of Tuscan Tan aftercare for the longevity of colour and to help evenly and gradually fade the tan with no stubborn patchy areas. When appropriate aftercare is followed your Tuscan Tan can last up to seven or more days.
There are three Tuscan Tan spray tan solutions to choose from-
ORIGINAL 8 hour Tan  | $45                                                                   
6 Session Series (pre-paid) $225 | SAVE $45
12 Session Series (pre-paid) $459 | SAVE $81
RAPID AMINO 90 minute Tan  | $50                                                                          
6 Session Series (pre-paid) $250 | SAVE $50
12 Session Series (pre-paid) $510 | SAVE $90
MULTIBASE® ULTRA DARK TAN  | $55
Complimenting ALL skin tones, MultiBase® colour technology combines violet, green, red and blue in one multi tasking solution.
Which one should you choose?
All three produce lasting performance despite the different processing time.
To ensure the best tan possible we believe Pre + Post care is important. Hydrated skin with zero dead skin accumulation absorbs the spray tan better which means better activation of the colour. Washing & moisturising your body with conventional body care products (containing stripping agents) may cause your tan to fade prematurely. Tuscan Tan Extender and Body Wash are formulated with no harsh drying ingredients and instead filled with hydrating Coconut Oil, Macadamia & Aloe Vera to prolong the life of your tan. The added bronzer prolongs the colour.
Tip || The Rapid Amino 90 Minute is ideal for a last-minute event invite, the time-poor or wanting a deep/ darker tan! This makes it our most popular spray tan at Vital Effect.